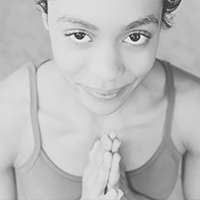 Taeler began her yoga journey at the age of 19 when she found yoga to be an infinite source of physical and spiritual healing. She studied under Ganga White at The White Lotus Foundation and continues to deepen her studies in restorative yoga therapy.
She has taught yoga to students of all ages, from kindergarteners to the elderly. As a dancer and a gymnast, yoga naturally complements her lifestyle by both challenging her physical being while nurturing past injuries. She teaches both vinyasa and therapeutic restorative yoga and welcomes all levels of practice. She is passionate about aromatherapy and uses essential oils to complement her practice and teaching. Taeler is a 200hr Yoga Alliance Certified Instructor and a certified Reiki healer.
Tailing a 13 year career with Lufthansa, Peter transitioned 5 years ago to a passionate yoga teacher, dedicated to sharing the Yoga tradition and lifestyle. He is recognized for his warm and inviting classes which foster an invigorating and calming environment. Peter emphasizes postural alignment for students to experience optimal sensation. The same experience that helps Peter navigate todays' chaotic and stressful environment.
Off the mat you can find Peter taking long walks on the beach with his best friend 'Thunder the Dachshund' or enjoying life taking a breath, reading, and spending quality time with his family and friends.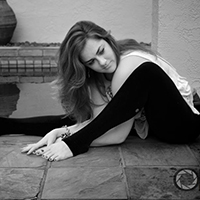 Courtney Avery
MPH, E-RYT200
Courtney was first introduced to yoga while studying the anthropology of Traditional Chinese Medicine in Western China, and it has been an important part of her life ever since. She received her Masters of Public Health from the University of Miami Miller School of Medicine, with a strong focus on women's health and prevention sciences. While earning her degree, she became a certified yoga teacher and found it to be an effective form of health education. Her travels took her to Mexico for a 100-hour immersion in empowered teaching, and Costa Rica for a 100-hour immersion in Danyasa, combining vinyasa flow with dance. With a strong background in the health field, Courtney finds yoga to be one of the most powerful tools for health, healing, and body awareness to live a fulfilling life.
Courtney's goal is to make yoga accessible to every level of fitness. She uses her knowledge of the body systems to target specific health needs. She is experienced in teaching all types of vinyasa yoga, prenatal yoga, restorative & therapeutic yoga, yin yoga, and yoga for reproductive health. She is also a Birth Doula, and uses her yogic philosophy to help families through childbirth.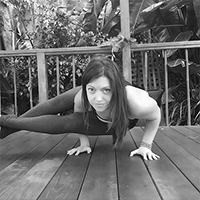 Danielle originally found the way to her mat as a means to create a more balanced and healthy lifestyle. It was love at first breath and she quickly realized that when she kept a regular practice that other aspects of her life felt more balanced as a result. Danielle believes yoga is truly for everyone and creates a safe and welcoming environment to students of all levels. She teaches a grounded, and well-balanced class with a focused attention on alignment and breath control. Her classes can be described with a sense of calm endurance, inviting students to take their practice a little deeper with the use of movement and breath.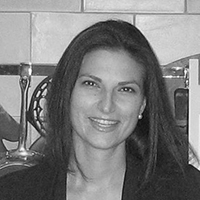 Stacey Filice has been practicing yoga since 2005. She initially began practicing as a means to explore another workout opportunity. While she loved the physical aspect of yoga she immediately recognized the mental benefits and knew yoga was something she needed in her life. She learned that yoga is not just "another workout". She was building her corporate career and never felt able to shut her mind off, but once she was in a yoga class she realized that her mind quieted due to the utilization of the physical asana practice. Overtime, she came to understand that yoga is a mirror reflecting life off the mat – if the mind is unfocused, if the breath is uneven and the body can't find stability, there is an imbalance in one's life and something needs to change. In 2013, after realizing her life was completely out of balance, she left her stressful corporate career to refocus her life and share yoga with others through teaching. She is passionate about helping individuals understand that yoga truly is for everybody!
Stacey has completed her 200-hr Teacher Training, Restorative Healing and Yin Yoga Training Level I & Level II with Debora Wayne at Prana Yoga Center, as well as 300-hr Yoga Works Teacher Training under the leadership of Gerhard Gessner and the mentorship of Sara Deakin.
Stacey's classes are intended to meet all levels of physical ability. She offers a challenging yet nurturing flow that focuses on alignment, use of the breath and connecting the mind and body. You will leave her class feeling that you not only gained strength, but also a sense of calm.
When Melissa first started yoga, she had no idea the profound impact it would have on her life. After studying sculpture and painting in college, yoga inspired her to embrace a new art form with endless possibilities. Through practicing asanas and linking movement to breath, she learned how to quiet the mind, strengthen the body, and to truly enjoy the present moment.
As her yoga practice progressed, she became fascinated by energy healing and the use of crystal energy to realign the chakras, which lead her to complete a certification course in Reiki. Melissa incorporates her passion and love for music into each of her classes. She loves creating new playlists that are high energy, fun, and that will motivate you through those intense Vinyasa flows! Inspired by her love of dance, she encourages each individual to dance through their postures and savor the movements between the asanas. She is honored to grow as a teacher through every single yogi!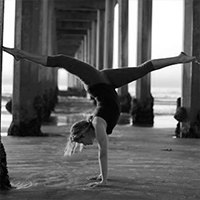 Sara has been practicing yoga since 1999. Like so many people, she began yoga for physical benefits. With numerous knee and shoulder injuries from competitive tennis and running, she turned to yoga for rehabilitation. The therapy went far beyond her joints, and started to resonate in her mind and spirit. From surfing, to traveling, to being a student of natural medicine, she has been able to integrate yoga philosophy into all aspects of her life.
Sara received her 200hr certification from White Lotus Foundation in 2006. She has been blessed to study under many renowned teachers including Ganga White, Tracey Rich, and Gerhard Gessner. This stylistically diverse group of teachers has allowed Sara to find her own unique heart-centered and down-to-earth approach to teaching. Her alignment based vinyasa flow classes emphasize the synergistic effects of connecting the body and breath. In addition to completing the 300hr Yoga Works training in 2010, she also received her Masters in Business Administration.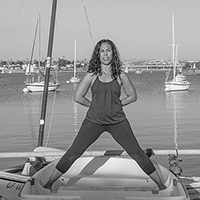 Anahi began her yoga practice after waking from her first savasna back in 2007. She was recuperating from spending two long months in the NICU with her newborn son. That first savasna created a space she had not experienced in a long time. Soon, her yoga-as-therapy practice began to go beyond her mind and body and it became very clear that yoga was a portal to her spirit. Anahi has always considered herself to be a seeker of the spirit, so diving into the exploration of yoga as a whole philosophy was an easy choice. She received her certification from Prana Yoga Center, under the experienced guidance of Gerhard Gessner. Anahi continues to learn from different teachers and every day from the openness, trust and courage of her students. She teaches a balanced class where poses are broken down and alignment is guided, yet loves to challenge students who are looking for a vigorous flow. Most important, she designs her classes based on who is in class and what is needed that particular day. After all, today is the only day we really have…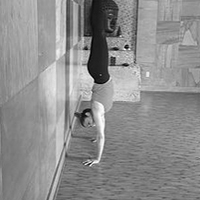 After years of working in the restaurant industry, Alicia began to long for something more. Having researched the many benefits of meditation, energy, and breathwork, Alicia decided to delve into a yoga practice in 2012. Living downtown, The Little Yoga Studio was a quick walk away, and after her first class she was in love! The strength of community, combined with the strength, balance, and focus she found on her mat in every class led her to pursue her 200 Hour Yoga Teacher Training Certification from Bird Rock Yoga in 2015. Upon entering the program, she wasn't sure if she would ever teach, but after becoming immersed she couldn't deny how fulfilling and joyful teaching yoga was.
"I love watching my students learn and grow as I do the same. Through ups and downs, i've learned that my job is simply to provide a space for others to learn about themselves and come to enjoy and cherish their practice as I have grown to do in the past few years."
Alicia tries to incorporate positivity and a meaningful message into each of her classes, where she encourages her students to explore, play, and have fun while trying new things.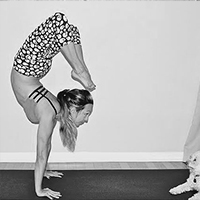 Sarah started her Yoga practice in 2009 and quickly began to realize the physical and emotional benefits a regular practice offered her. Working a demanding career and having suffered from back and shoulder pain from sitting at a desk for 8+ hours a day, she decided to dedicate herself to a regular Yoga practice in an effort to help alleviate the pain and stress of the daily-grind. Within months of her practicing her back pain nearly subsided and she learned just how powerful thoughtful breath and quiet meditation could be when dealing with everyday, stressful situations. She knew she wasn't the only hard working professional that could benefit from a daily Yoga practice and in 2011 decided to obtain her 200 hr Yoga certification at The Little Yoga Studio in the hopes to be able to share the gift and discipline of a daily Yoga practice with others going through a demanding career, just like herself. Her goal in teaching is to guide her students to find peace, acceptance, and strength in their practice, while at the same time finding their edge and breaking through arbitrary physical boundaries students put on themselves. "I believe that, with enough practice and dedication, everybody can do a Scorpion!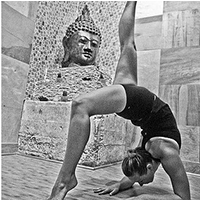 Melissa Gottschalk (Bagnell)
Melissa started practicing yoga over 10 years ago and found an even deeper love for yoga after her mom started teaching yoga. She graduated from her 200-hour Yoga Alliance Certification from The Little Yoga Studio and teaches Vinyasa-flow classes throughout San Diego. Melissa has had the pleasure to study under great teachers such as Teresa Austin, Philip Fulton, Dharma Mittra, and Tiffany Cruikshank. Her goal in teaching is to guide her students to find strength and patience in their practice and to laugh and have fun along the way.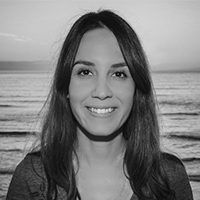 Cristina began practicing yoga as a means to manage the stress she was experiencing in her career as well as the chronic pain she had been struggling with since childhood. Meditation, pranayama (breath control), acupuncture & Reiki were introduced to her at a time when she needed it most and realized the importance of taking the time to nourish the body, mind and spirit in order to achieve optimum health and wellbeing. After taking a Yinki® class (yin yoga with Reiki energy healing) one evening, she instantly felt the healing benefits of her practice- physically, mentally, and emotionally. Cristina felt inspired to deepen her understanding of yoga and decided to take a 600hr Hatha yoga therapy program through Shafa Yoga.
She then did further training as an integrative healer, Yinki®yoga teacher and mentor through Tranquility Wellness Center. Cristina is also the founder of Sacred Balance Integrative Healing haring the therapeutic benefits of yoga, meditation and integrative healing has truly been a life changing and humbling experience for Cristina. Her mission is to inspire others to bring balance to their lives- physically, emotionally, mentally, and spiritually so that they may realize their full potential.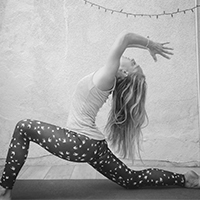 In pursuit of balance, Jennifer developed her yoga practice as a sanctuary amidst chaos. She found the more time she spent on her mat the greater she understood how to best move through life in a mindful way. Finding authenticity in every moment, and thus tailoring your practice to fit your needs. She is passionate about self empowerment and moving with intention, which her classes reflect. "It ain't what they call you, it's what you answer to." W.C. Fields